Buying property is the biggest purchase most people will make, so it's no surprise that a lot of conversation, hand-wringing, dreaming, and research goes into the process.
While news and real estate reports will often offer conflicting advice (the market is cooling, don't buy now; interest rates are lowering, hurry up and buy!) the reality is, whenever you're ready and able to buy is always the right time. Unless you're an investor looking for a quick flip, real estate is a long game, one that historically shows that over time your investment will grow, no matter what the pundits of the day are saying.
There are many other reasons why becoming a homeowner is the right move, from the state of Toronto's rental market to the personal and financial security that comes with home ownership. There are also reasons why buying a condo with Options for Homes makes becoming a homeowner even more attainable, such as the down payment support of up 15% that is available to all purchasers through the Options Ready Program, and additional down payment support of up to $60,000 from the City of Toronto that we're able to offer first-time home buyers.
Here are 4 reasons why it's always a good time to buy.
1. Rental is scary
Horror stories from the rental market abound. From the difficulty of finding something with vacancy rates that are below 1% to longtime renters being "renovicted" – evicted from their apartments under the guise of a renovation by unscrupulous landlords – being a renter in Toronto bears a degree of insecurity. Even when you find a place amid the scarcity, you never know how long you'll get to live there.
Almost 40% of renters spent more than 1/3 of their income on rent, nearly twice the amount of what homeowners spend. And according to the Toronto Real Estate Board, that trend of increasing prices is only going to continue. All of this makes it so hard to save for the future – or a down payment.
2. There's down payment support available
Why pay your landlord's mortgage when you can be paying your own?
Like so many renters in Toronto, you might have some money saved for a down payment but keep falling short because of rising rental costs and real estate prices. The Options Ready Program helps deepen the affordability of a home and bridges the gap for those who are able to afford the costs of carrying a mortgage but might not have enough down payment saved.
Up to 15% of the value of a condo is available as a shared equity down payment, which helps you secure a conventional mortgage with only 5%* total down payment of your own money. This is available to anyone, not just first-time buyers.
The support is administered as a shared equity mortgage, also often referred to as a shared appreciation mortgage, which has no scheduled payments. It's simply repayable at the time of sale or when a homeowner moves out. When this happens the percentage borrowed is repaid based on the sale price (or appraised value) of the home. That's the shared equity part: we help people become homeowners; we share the equity gained as the value of the home appreciates.
3. There's even more down payment support available for first-time home buyers
This model is so effective that the federal government recently adopted the shared equity mortgage as the basis of it's First-Time Home Buyers Incentive, which provides the rest of the country a benefit Torontonians have long enjoyed.
Eligible first-time home buyers may also qualify for additional down payment support from the City of Toronto when purchasing with Options. These funds, which are made available to Options by the City, are layered onto and administered just like the Options Ready Program to further bridge the gap, especially for families stretching to access larger family-size suites.
4. Real estate is a long-term investment
Beyond affordability, one of the most stressful aspects of buying a home is watching the daily fluctuations of interest rates or hearing news of falling real estate prices. Just like the stock market or your RRSPs, watching the housing market change from day to day can be enough to induce heart palpitations. Did I buy at the wrong time? Are values going down? Are interest rates going up?
But just like RRSPs, focusing on the day-to-day doesn't take into account the long-term performance of the housing market. Sure there are dips and peaks, but over time, real estate in Toronto has appreciated. This chart from Toronto Regional Real Estate Board shows just how much.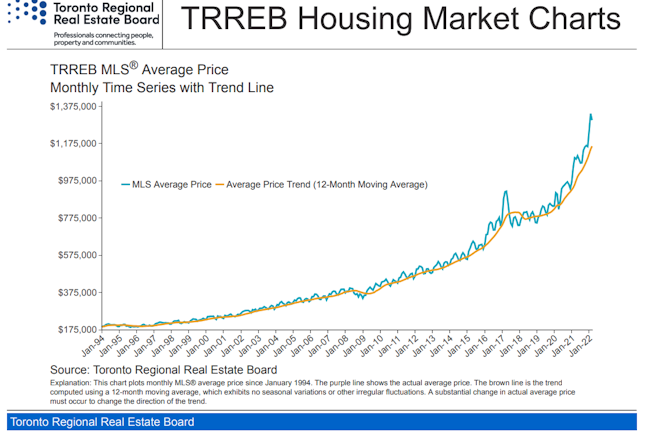 Buying pre-construction with a developer that has never cancelled a project after sales launch is one more assurity that you too will enjoy the rewards of homeownership with Options for Homes, just as soon as you are ready to make your move.
With trusted builder Deltera (of the Tridel Group of Companies), the support of CMHC so that you can secure a conventional mortgage with just 5% down, and a condo now selling in an up-and-coming neighbourhood there may be nothing stopping you now that you know how we can help.
* 5% down payment on the first $500,000; 10% on any amount over $500,000